In this photography tutorial I will make a general overview of Nikon and Canon lenses.
You will learn what all those numbers and letters on the lens and in the lens name mean. We will be talking about Focal Length, Fixed and Variable Apertures, Crop and Full Frame sensor lenses, ED glass and Nano Crystal Coating Canon L lenses and much more.
SOME INFO FROM THE VIDEO:
Lenses might differ by they focal length.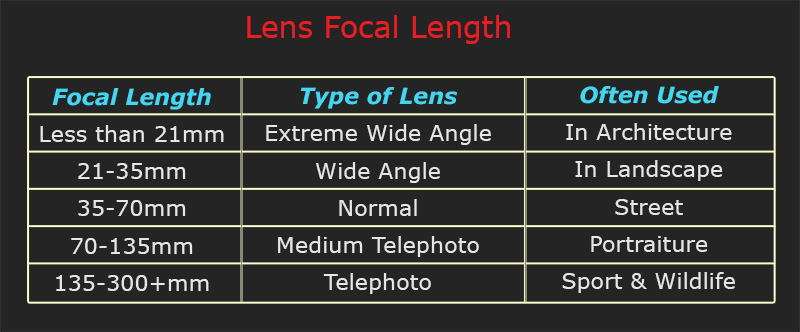 They can also be Zoom (changeable focal length) or Prime (fixed focal length) lenses.
One of important aspects of the lens is its maximum aperture. Ofter fixed focal length lenses have wider maximum aperture. Zoom lenses also might have variable maximum aperture, which will change together with its focal length. Zoom lenses with fixed aperture are usually better and more expensive.
On some lenses you might also see VR – vibration reduction (Nikon) or IS – image stabilization (Canon).
VR or IS is an image stabilization technology that minimizes blur caused by camera shake. You can experience camera shake by holding the camera and using slower shatter speeds. It is not recommended to use shatter speed slower then 1/focal length of the lens while holding the camera, but with VR/IS you can go about 3 stops slower. Of course it all also depends on photographer and how sturdy he/she is.
There are lenses which are make for full or cropped sensor:
For Nikon: DX (Crop Sensor) and FX (Full Frame)
For Canon: EF-S (Crop Sensor) and EF (Full Frame)
Click here to learn more about full and cropped sensor.
Nikon also have G and D lenses. The mail different is that D lenses have an aperture ring and can be easily used with old cameras. On other hand G lenses don't have aperture ring and can't be used with old cameras.
But you have to be careful while choosing D lens, because a lot of them have AF instead of AF-S focusing system.
AF lenses use a screwdriver focus mechanism. In this case focusing has to be controlled by the camera motor.
AF-S lenses have the focus motor built into the lens (much quieter and faster).
Bodies that are AFS only will not autofocus with regular AF lenses.
AF lens will not autofocus with:
D5200, D5100, D5000, D3200, D3100, D3000, D60, D40, D40x
AF will autofocus with:
D800, D800E, D700, D600, D300s, D300, D200, D7000, D7100, D90, D80, D70, D70s, D50, D100
You also might hear about Nikon lenses with ED (Extra-low Dispersion) Glass. It actually help to correct chromatic aberrations, or optical color defects.
Some Nikon lenses also have Nano Crystal Coat, which helps to eliminate or minimize Ghost and Flare.
On other hand Canon has a professional like of L lenses.
L="Luxury" or "Low Dispersion"
There usually are:
– heavier and tough buil
– most are weather sealed
– will work on all film and digital Canons of all formats
– typically have wider fixed apertures
– have USM (ultrasonic motor), which allow faster and quiter focusing
– minimize chromatic aberration – produce better colors