WPPI (Wedding and Portrait Photographers International) is a huge photography conference and trade show, which is held in Las Vegas, Nevada every year around February and March. This year it hosted more then 10,000 attendees.
As a photographer it is very important to never stop learning, find inspiration and stay informed about carrent trends and new equipment. WPPI is a place, which can offer you all of that in one.
It includes one of the biggest trade shows, where you can get to know the magority of available industry related products. You can see them in person, touch them, play with them, ask question, as well as get advantage of specials offered during the show only. What can be better then that? If you don't want to be left behind you must be there!
Here some highlights from the trade show.
NIKON D7200
My favorite Nikon show off their new Nikon D7200, an update for D7100 with longer battery life and better ISO performance. It doesn't seams to be a huge different between D7100 and D7200 to be worth the upgrade. So is can be a great camera for a new bayer or those who wants to upgrade from beginer camera to semi pro.
SIMPLY COLOR LAB ART WALL
Their art wall is simply amazing. It is three dimentional work of art, which you can create using your photo. You can choose from three differn options: Canvas Wrap Mounts, Fine Art Mounts or Metal Prints.It is very unique and so far I didn't see any other vendor offering something like that.
WESTCOTT'S ICE LIGHT
The Ice Light is battery operated, ultra-portable LED light. It weights anly 1.3 lbs, which makes it so easy to take everywhere. It is on a pricy side of $450, so it seams to be a very hot item rigth now. Convinience and ease of use might be well worth the price.
SKB CAMEA GEAR CASE
Since camera equipment is pritty big investment, it is very important to keep it safe, especialy during stansportation. SKB camera cases are prity good solution. They even have woterproof option. They are very well designer, look durable and easy to use and moove around, since you can role them like a suitcase. They come in black and special girly eddition of hot pink.
KELLY MOORE CAMERA BAGS
One of the most crowded boothes was Kelly Moore Camera Bags booth. If you not anly need a good bag to carry your equipment in, but also want to make a fashion statement, you have to check it out. They offer verity of colors and cool designs. And the best part, they totally look like a regular bags, so nobody will ever know that you have your equipment in it. I think they come up with better and better designs every year.
WHCC ALBUMS
I just want to point out that I have been WHCC for a while now and I was always happy with a product as well as customer service. I think their albums are beautiful and very competitively prices. They have a big veriety of designs as well as paper you can choose from. I love that WPPI gives the opurtunity touch and feel befferent papers and producs to find the once which suits you and your photography business.
I can name so many more great products presented at the show and it makes it so much easier to make a choise of that product is right for you.
Besides the trade show, WPPI also features more then 250 of the best photography educators, who teach life class and workshops on a lot different subject. Eather you need some help with technical aspect of photography, or you feel like you a lacking in a business part of your trade, or you just simply need to be inspired, at WPPI everyone can find something for themselves.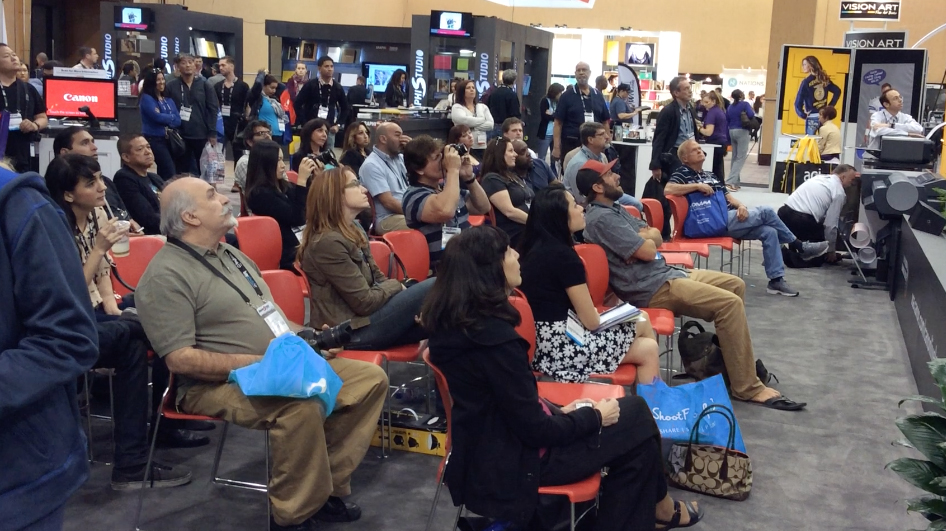 Some classes are tought right at the exto rooms and you can attend them just with your expo pass and some are specialty classes for which you will need a full conference pass. Life shoots demonstrutions  are prity cool too.
Each instructor has something unique to offer. Since it is Wedding and Portrait Photography Expo, of couse a lot of classes are wedding and different tyle of portrait photography oriented. You can find classes of glamour, family, boudoir, fashion photography. Business classes are awesome as well. And let not forget about video classes.
This year they also had so called Photo Walks. Those are exclusive 1 1/5 hour hands-on class limited to 25 people, which teach a practical part of the trade. Those are prity awesome. You will learn about camera lightening, posing, gear from the best of the best.
If you a brave enough you can even submit your work for review and participate in printing contest.
There are so many things to choose from, so planing beforehand is the key. You might be very overwhelmed at first and will want to do more things then you are capable of. WPPI has an app, which make planing much more easier. I promise, you will be exhausted and very happy about how much you've learned and how many great people you've meet during such a short period of time.
If you never been to WPPI, I highly recommend it. Hope to see you next year!
You can learn more here : http://www.wppionline.com/