Welcome to a new Easy Exposure Photo Forum! I hope you will enjoy new features. It is still work in progress, so please be patients. Thanks!



Topic RSS
Mandu City (Ancient Monuments) India -part1





(0

votes)
September 24, 2012
6:58 am

India
Forum Posts: 553
Member Since:
September 4, 2012

Offline
Introduction – Mandu is situated about 35 km from Dhar, district headquarter of the same name in Madhya Pradesh. The hill rises 633.7 m above the sea level and is endowed with a very attractive natural scenery, which is best during the rainy season. It is clothed in green with number of brooks and torrents, rushing down into the ravine winding about its sides below. The beauty is enhanced by about a dozen lakes and ponds interspersed on its top. This is probably the reason why the city, enclosed within its fort-walls, when in its prime, was called by the Muslim rulers as Shadibad, 'The City of Joy'.
History – The earliest reference of Mandu is found in a Sanskrit inscription, when it was called as Mandapa-Durga. This inscription, on the pedestal of a Jaina image of Adinatha, is dated Vikram Samvat 612 (AD 555) and found at Talapur. It says that the image was installed in a temple of Parshvanatha, in a locality called Tarapur inside Mandapa-Durga, by a merchant named Chandrasimha Sha. Firishta, the celebrated Muhammadan historian, quotes a legend saying that in the days of Khusrau Parviz (AD 590-628) the fort was built by 'Anand Deo Rajput of the tribe of Bies', a name which is not traceable amongst the historical personalities of the day so far known to us. However the former inscription confirms that there must have a fort existing about that time and it must have been constructed some time before, before AD 555. Mandapa-Durga's Prakrit or vernacular equivalent is Mandava, a name which is still in use. The word mandava is further corrupted to Mandu.
We do not have any history of next three centuries. In tenth century, this fort was a frontier outpost of the Guhara-Pratihara empire of Kanuaj. In an inscription of Vikrama Samvat 1003 (AD 946), found at Pratapgadh in Rajasthan, referring to the reign of king Mahendrapala of this dynasty, it is stated that prince Madhava was then acting as the great feudatory at Ujjain and his commander-in-chief Sri-Sarman was carrying on the affairs of The state at Mandapika (Mandu). By the end of tenth century, Mandu came under Paramaras, who ruled with their capital at Ujjain and later shifted to Dhar. This dynasty was in its golden period under King Munja and Bhoja, who put it to the glory unmatched in the history of North India. The memory of king Munja is still retained at Mandu in the name of the Munja-Talao. It is also probable that King Bhoja put a blockade to Mahmud of Ghazni when he was returning from Somnath, which made him to divert his route leaving Mandu unharmed.
An inscription on the sarpa-bandha (snake-diagram) in the local collection in the fort has the date Vikrama Samvat 1125 (AD 1068) and refers to Sri-Bhattaraka-Devendra-deva, possibly a vassal chief under the Paramara King Udayaditya. The Rasamala says that the Mandu chiefs were paying homage to Udayaditya, whose capital continued to be at Dhar. It is likely that Lohani caves and other Shiva temples at Mandu were of this time. From the inscriptions found in the debris of fort buildings, we get lengthy hymns to god Vishnu composed by Bilhana, who, the record states, was the minister for war and peace to the Paramara King Vindhyavarman, who ruled Malwa at the close of the twelfth century. Sallakshana was Chahmana chief in the court of Arjunavarman (AD 1210-1218) and he erected some temples in the fort in vicinity of Lohani caves.
In about AD 1227, Shamsu'd-Din Iltutmish invaded Malwa, sacked Bhilsa and Ujjain, but reigning Paramara King Devapala concluded a treaty with him hence Mandu was left untouched. This was the first Muslim invasion to the area. Paramara continued to rule from Mandu but their power declined. Jayavarman (AD 1256-1261) ruled from Mandu, as seen from his copper-plates discovered at Godurapura in Nimar. Jayavarman was succeeded by Jayasimha II, who is mentioned as the lord of Mandapa-Durga in a memorial pillar from Valipur in Dhar. He was defeated and killed in a battle by the Chahmana King Jaitrasimha in AD 1269. In about AD 1283, Bhoja II ascended the throne of Malwa, as seen from a seven line inscription at Rewa-Kund at Mandu.
In 1293,Muslim ruler of Delhi, Jalalu'd-Din Khalji attacked Mandu and returned with lots of booty to Delhi. Mandu continued to be with Hindu rulers till AD 1305 when the final onslaught came from Alau'd-Din Khalji. He sent his trusted general Ainu'l-Mu'lk to fight with Mahlak Deo, the Hindu ruler of Mandu. Mandu was added to Delhi Sultanate.
In the reign of Muhammad-bin-Tughluq, Dilawar Khan Ghuri was the governor of Mandu. When Delhi went into instability, Dilwar Khan declared himself independent and assumed royal titles in AD 1401. He kept his capital at Dhar but visited Mandu frequently. After his death his son Alp Khan, with regal name Hoshang Shah, ascended the throne in AD 1405. He shifted the capital from Dhar to Mandu. His career was busy with military conquests with Gujrat, Delhi and Jaunpur. Many architectural buildings were also constructed during his time including his own tomb and Jami Masjid. He also elaborated the fortifications, and these defenses of the fort were talked in eulogistic terms by Firishta and Jahangir.
Hoshang Shah, most beloved ruler to his subjects, died in AD 1435, leaving the throne to his son Ghazani Khan, who took title Mahmud Shah. His reign was short-lived and he died in AD 1436. He was poisoned by his confidante Mahmud Khan, who took the throne after his death. This put the end to the Ghuri dynasty and start of Khalji dynasty at Mandu. His reign was full of military conquests with Deccan, Jaunpur, Delhi and Gujrat. However, his usual target was Rana of Mewar. He died in AD 1469, reigning for almost 33 years. He was succeeded by his eldest son Ghiyathu'd-Din. He devoted his career to peaceful pursuits instead of military conquests like his father. He has extraordinary fancy for women, it is said that he had at one time 15,000 women of various classes and professions in his seraglio. He was poisoned by his own son, Nasir'd-Din, an incident narrated by Jahangir in his memoirs.
Nasiru'd-Din ascended to the throne in AD 1500. But he was never able to come out of remorse of killing his own father. He died of burning fever, leaving his throne to his third son Mahmud in AD 1510. Mahmud II faced the domestic feud, which was started in the reign of his father. But he fought this with the assistance of Rajput chief Medini Ray. Medini Ray gained quite an influence over the king that his power soon became unbearable to the king. Mahmud II fled Mandu with help of Muzaffar Shah of Gujrat and later ousted Medini Ray and gained Mandu again. However he did not keep good relation with Bahadur Shah, successor of Muzaffar Shah, so Bahadur Shah attached Mandu and captured Mahmud II.
Malwa remained a dependency of Gujrat till AD 1534 when Humayun conquered the fort, while Bahadur Shah fled from Songarh Fort. But as soon as Humayun left Mandu, Mallu Khan, an officer of the former Khalji dynasty retook all territory between Narmada and the town of Bhilsa and crowned himself at Mandu with the title of Qadir Shah in AD 1536. In 1542, Sher Shah invaded and conquered Malwa and appointed Shuja'at Khan as his governor in Malwa. He died in AD 1554 almost as an independent sovereign. His death resulted in a domestic feud amongst his three sons. One of them, Malik Bayazid, crowned himself as an independent ruler as Sultan Baz Bahadur.
Baz Bahadur showed some spirit of enterprise in the beginning, but after his disgraceful defeat by Rani Durgavati he almost forswore fighting. He gave himself of dance and music where the famous and beautiful Rupmati proved to be his most favorite associate and consort. Akbar's general, Adham Khan, attacked Mandu in AD 1561. Baz Bahadur fled but Rupmati was captured. She committed suicide by taking poison instead of falling victim to the allurement of the enemy. Under the Mughals, Mandu lost its former glory. Emperor Akbar visited the fort about four times during his Deccan conquests. Akbar's successor, Jahangir, was, however, more fascinated by Mandu. He stayed in fort for about seven months. He left many interesting descriptions of Mandu in his memoirs.
Shah Jahan also visited Mandu twice. Architects of Taj Mahal visited Mandu, in AD 1659, to pay homage to the architects of Hoshang Shah's tomb. Though Mughal emperor visited Mandu during their military conquests, its fortunes had already passed away with the fall of Baz Bahadur.
In 1732, Marathas under Malhar Rao Holker defeated Diya Bahadur, the Mughal governor of Malwa in a battle of Tirla near Dhar. Mandu was with Marathas till the British rose to power.
Monuments – A majority of the standing monuments at Mandu were raised in the period of hardly 125 years, between AD 1401 and AD 1526. In this period Mandu was under Muslim rulers, and as elsewhere, they desecrated and destructed Hindu temples to raise their structures with their own ideas of architectural compositions. Visitors, who may have seen similar structures elsewhere in India, will see certain characteristics of Mandu buildings such as very minimal ornamentation and decoration on exterior and interior of its buildings. The luxury is disdained in the buildings but those do not lack and dignity and grandeur, which they achieve with simplicity, austerity and massiveness of construction.
We can group the monuments at Mandu in seven groups, 1. Ancient Monuments, 2. The Royal Enclave Group of Monuments, 3. Mandu Village Group of Monuments, 4. Sagar Talao Group of Monuments, 5. Rewa-Kund Group of Monuments, 6. Darya Khan Group of Monuments, and 7. Miscellaneous Monuments scattered around.
Ancient Monuments: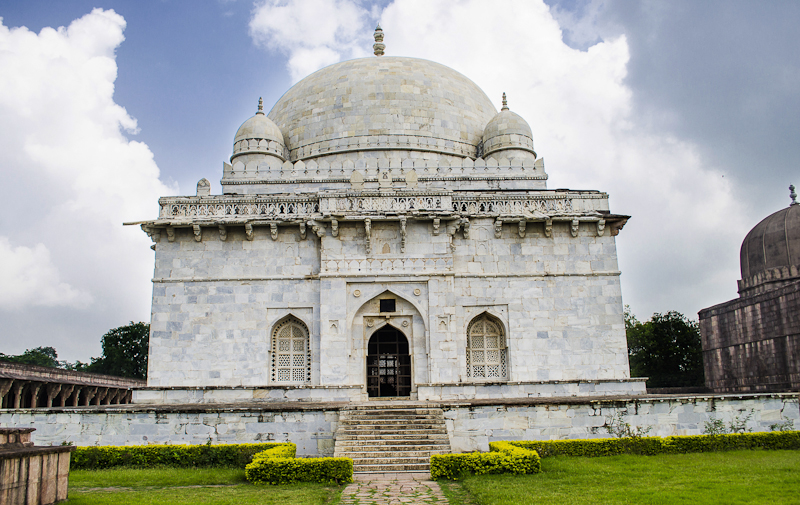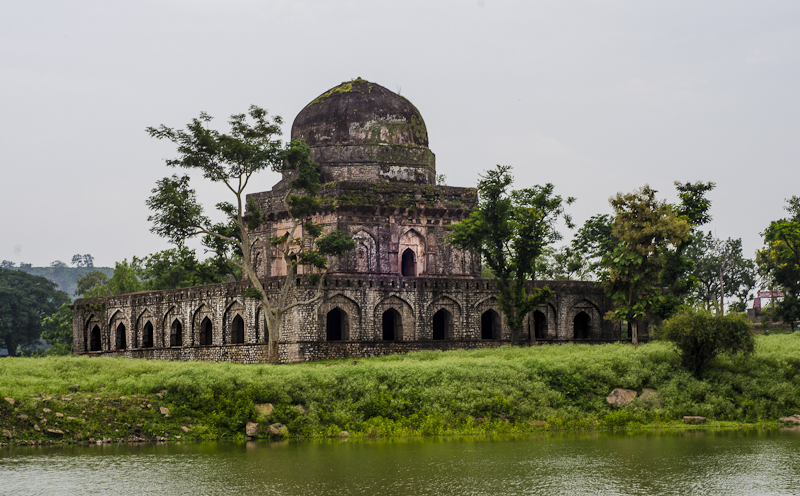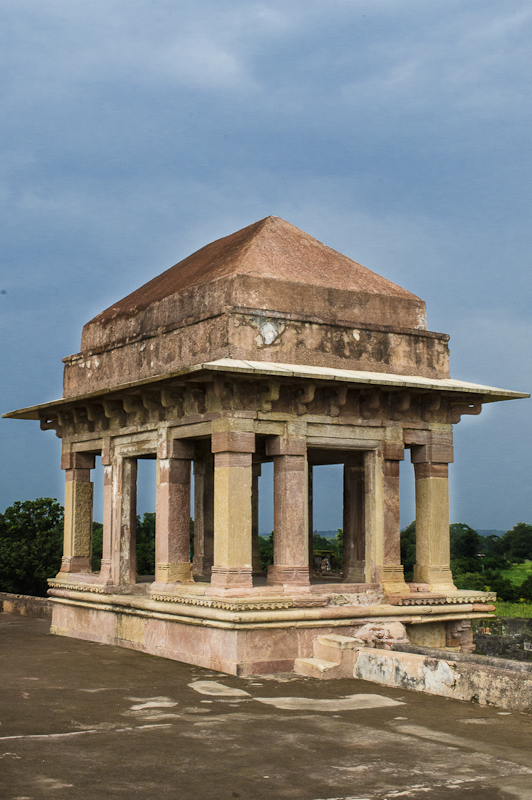 September 24, 2012
6:32 pm
Long Island, New York
Forum Posts: 2719
Member Since:
September 15, 2012

Offline
Interesting photos… I find the second to be the most appealing. All are dead centered, breaking the rule of thirds, but with these subjects it appears appropriate. The first photo bothers me a bit. It should be straightened and the building distortion should be fixed.
fyi, I didn't comment the first time through because I fell asleep reading the text. (just kidding).
Mandrake.
September 24, 2012
6:44 pm
Long Island, New York
Forum Posts: 2719
Member Since:
September 15, 2012

Offline
September 26, 2012
6:49 pm

India
Forum Posts: 553
Member Since:
September 4, 2012

Offline
March 15, 2013
10:55 pm

Delft (Netherlands)
Forum Posts: 465
Member Since:
October 9, 2012

Offline

Forum Timezone:
America/Los_Angeles
Most Users Ever Online: 208
Currently Online:
7 Guest(s)
Currently Browsing this Page:
1 Guest(s)
Member Stats:
Guest Posters: 6
Members: 2713
Moderators: 0
Admins: 1
Forum Stats:
Groups: 14
Forums: 87
Topics: 2763
Posts: 15385